1/16 DIN Digital Indicating Controllers Shinko JCS Series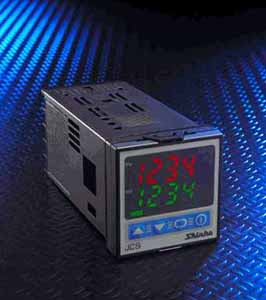 Standard Features:

• Structure
Units available in standard DIN sizes (1/16 DIN).
NEMA 4X protective construction.
Black enclosure.
• Programmable Alarms
Units feature standard single alarm output with optional second alarm.
• True Multi-Input
Units feature true multi-input capabilities: 10 thermocouple types, 1 RTD type, 2 current inputs, and 4 voltage inputs.

• Auto/Manual Control
Manual overide allows you to take control of your process at anytime.

• Large LED Display
All units feature dual display. PV red 4 digits, SV green 4 digits.
• PID Autotune
All units feature as standard full function third generation PID Autotune. This feature minimizes process overshoot under the most demanding applications.
• Modbus Protocol With RS485 (Option)
Units offer communications capabilities.
• Safety Approvals
UL, cUL and CE Safety Approvals.
• Warranty
All units manufactured to strict ISO standards and offer full 3 year manufacturers warranty.
• Low Cost
Most advanced price/performance package available.

• Other DIN Size Models
• 1/16 DIN Digital Indicating Controllers
• 1/8 DIN Digital Indicating Controllers
• 1/4 DIN Digital Indicating Controllers
1/16 DIN Digital Temperature Controllers
features a full 3 year warranty and lifetime technical support!