Pneumatic dead weight tester
The P3000 Pneumatic Dead Weight Tester is the culmination of over 50 years experience in the production and design of primary pressure standards. With features designed to improve accuracy and performance, increase reliability, and simplify operation, the P3000 pneumatic dead weight tester can be used to calibrate virtually any pressure sensing device including transducers, transmitters, gauges, or pressure switches.
Each P3000 pneumatic dead weight tester is supplied with a detachable lid that makes it neat, compact, and easily portable. The weight masses are stored in a high-quality case with a self-locking mechanism to protect them during transit. All P3000 pneumatic dead weight testers are provided with a traceable certificate of accuracy, weight mass details, 1/8, 1/4, 3/8, and 1/2 NPT or BSP female adaptors, operating fluid (where applicable), and spare seals.
Operating Principle
Dead weight testers are the primary standard for pressure measurements. Utilizing the well proven piston-gauge system, consisting of a vertically mounted, precision lapped piston and cylinder assembly, accurately calibrated weight masses (Force) are loaded on the piston (Area), which rises freely within its cylinder. These weights balance the upward force created by the pressure within the system. The pressure is measured when placed on a correctly spinning and floating piston. The total pressure measured is the summation of the weights plus the piston weight carrier assembly.
Instrument Base
There are four basic variations in the pneumatic dead weight tester; single pressure, single vacuum, dual vacuum and pressure, and oil-lubricated, pneumatically driven high-pressure models. Pressure or vacuum is generated by an external source or an optional built-in hand pump. The hand pump option is not available on dead weight testers above 500 psi (35 bar).
Piston/Cylinder Assemblies
The piston/cylinder assembly is the heart of each dead weight tester. They are manufactured from materials that provide stability, durability, and low thermal coefficients and distortion.
Gas Supply
All dead weight testers from the P3000 Series are fitted with a 1/4 NPT female external supply port for connection to the gas supply source. A compressed gas bottle (nitrogen or dry air) fitted with a pressure regulator is recommended. Ten percent above the maximum pressure is required. A built-in hand pump is available on some models to generate pressures to 300 psi (20 bar).
For vacuum requirements, an external vacuum pump can be connected to the 1/4 NPT port. The built-in hand pump will also generate up to 90% vacuum.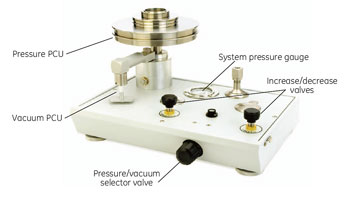 Pressure ranges from vacuum through 2,000 psi (140 bar)
Accuracy better than 0.015% of reading.
Increased accuracy option of 0.008%
Gas operated with optional hand pumps
Dual vacuum/pressure models available
Psi, bar, kgf/cm2, kPa and MPa ranges available
Piston/cylinder design provides stability and repeatabilty
Built-in pneumatic hand pumps for pressure and vacuum
Piston flotation indicator
High quality needle valves provide optimum control
Mounted spirit level and adjustable feet
Test station design with O-rings eliminates the need for PTFE tape or wrenches
Improved case with spring-loaded latches for hood
Sturdy weight box with hinged lid and side handles for easy transport

pdf_files spec sheet