Strip Chart Recorder Shinko 100mm HR-700 Series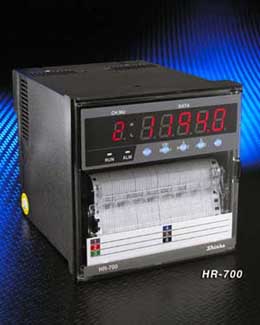 Standard Features:

•
True Hybrid Design
Units offer fully programmable features including: input types, chart speed, data recording session and intervals, scaling, alarm points, etc.
• True Multi-Input
Units feature true multi-input capabilities: 13 thermocouple types, 1 RTD type, 1 current inputs, and 7 voltage inputs.

• Computer Communications
All units feature standard RS-232C communication interface.

• Large/Full Function LED Display
All units feature full function digital display of channel number, PV value, and recording and alarm status, etc. Bright red 18mm display.
• 1, 2, And 6 Point Versions Available
Units are available in either 1 or 2 channel, or 6 point recording versions.

• Designed For Harsh Environments
Units rated to IP65, and constructed of flame resistant resin.
• Compact Design
Unit measures only 150mm in depth and weighs less than 1.5kg.
• Safety Approvals
UL, CSA and CE Safety Approvals.
• Warranty
All units manufactured to strict ISO standards and offer full 2 year manufacturers warranty.
• Low Cost
Most advanced price/performance package available.
Display and Operation Keys

1: Channel Number Indicator
Orange LED indicates Channel number 1 to 6.

2: Alarm Indicator
Red LED indicates the type of the alarm, [H] is lit when the alarm is High, and [L] is lit when the alarm is Low. Neither of them is lit when there is no alarm.

3: Data Indicator
Indicates the process variable, time, setting value and setting item by orange indicator.

4: Status Indicators
The [REC] (orange) is lit when recording.
The [ALM] (red) is lit when the alarm is being activated.

5: Operation Keys
Use these keys for setting and other operations.
All units feature a full 2 year warranty
and lifetime technical support!