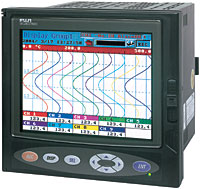 The compact Fuji Electric PHL paperless recorder displays up to 18 channels of data on a brilliant 5.7" TFT color LCD. This Fuji recorder features a wide variety of display modes to allow users to view data as trends (horizontally or vertically), bar graphs, analog meters, digital/numeric output, totalized output, event summaries, and more. Switch between these paperless chart recorders' display modes quickly and easily with the 8-key front panel. The adjustable-time screen-saver function extends the life of the display and reduces power consumption.
The Fuji Electric PHL paperless recorder comes in a 9 channel or 18 channel model. Users can record up to 12 types of thermocouples, 5 types of RTDs, and DC voltage/current input on one unit. The PHL paperless recorders can literally record years of data with the optional 512MB Compact Flash card, and the standard 16MB card is more than adequate. Free PC support software allows you to configure the PHL paperless chart recorder from a PC and view historical data stored on the compact flash card. This Fuji recorder comes standard with math and totalizing functions.
These paperless recorders from Fuji Electric include 16MB of Compact Flash memory, waterproof gasket for the front face, noise filter for the power supply, PC support software, instruction manual, and panel mounting brackets.
Features of the Fuji Electric PHL Paperless Recorder
Long Term Data Storage: Up to 1.5 years in Compact Flash

Saved Data playback: Saved data in Memory card can be easily called out and played back on display

Math and totalization: These functions are available as standard.

Communications Option: RS485 (MODBUS RTU protocol) or Ethernet

Screen saver: Period of non-operation exceeds the setting value of parameter, recorder turns off the backlight of LCD.

PC support softwares (Data Viewer/Parameter Loader): CD-ROM and loader cable included with recorder

Compact size: 160 x 144 x 185mm (6.3" x 5.7" x 7.4") (WxHxD) (Panel mount), 1.5 kg (3 lbs.) compact size

9-point and 18-point recording: 12 types of thermocouples, 5 types of RTDs and voltage/current input are available