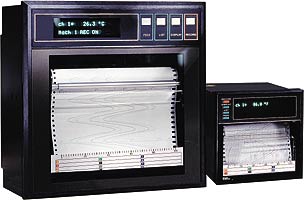 The Fuji Electric PHC Series of 100mm strip chart recorders offers brilliant six color recording utilizing Fuji's patented inkjet mechanism. Tiny piezo elements electronically dispense small dots of 0.3mm diameter colored ink onto the chart paper, tracing vibrant trend lines and printing sharp alphanumeric characters.
This technology, previously available on expensive printers only, now comes in a strip chart recorder at an affordable price — one that falls below the cost of most dot-matrix type printers. If you note the difference in print quality between the dot-matrix and the inkjet typefaces, you'll conclude there's simply no reason to use a dot-matrix type recorder anymore.
The inkjet cartridges can have a long life of up to 6 months of continuous operation. Each channel is assigned its own color, and reports generated in reference to that channel are printed in the corresponding color. As this method of printing requires only one mechanism, these strip chart recorders require fewer moving parts than conventional recorders — that means years of extremely reliable, trouble-free operation for you. With fewer moving parts comes a depth of less than 8", making the Fuji Electric PHC 100mm ideal for installation in shallow panels.
General Capabilities
The PHC 100mm strip chart recorders comes in three or six channels. As each channel has its own 16-bit A/D converter, these instruments offer high speed sampling of the input signal. These inputs include most thermocouple and RTD types plus a wide range of DC currents/voltages; each input can be scaled for your particular application from the recorder's front panel. With advanced math functions, these recorders provide filtering, square root extraction, subtraction, and scaling for each channel.
Furthermore, these recorders are fully programmable from their easy-to-read, fluorescent front panels for a variety of parameters such as:
Report Capabilities
One of the most powerful features of the PHC chart recorders is their ability to create a full complement of status reports — scheduled or on demand. You may specify daily and summation reports for any period of time from one to 24 hours. These reports are printed in crisp digital type and provide you with important information such as:
Configurations
The PHC is available in either continuous trace or dotting print versions. The continuous trace and dotting models are nearly identical in features except that the dotting recorder has a slower sample time and has limited scale print or periodic printout capabilities. Therefore, the dotting recorder carries a lower price. Both recorders are capable of data logging in addition to trend recording and can transmit data via an RS-485 communications link.
Prints 7 different types of reports

Easy to program for more than 15 parameters

Advanced Math Functions

Large Fluorescent, Multi-Language Display

Non-Contact, Inkjet Printing is vibrant and sharp with selectable ink color for each channel

One Mechanical Assembly for Printing means fewer moving parts for longer life and trouble-free operation

Side-by-Side Mounting for crowded panel environments

Logging Mode prints measured values at intervals ranging from 10 to 60 minutes

Daily Report provides measured values for every hour along with max, min, and avg values

Totalization furnishes integrated values at one hour intervals and the total one day value

Zoom, Zone and Auto Range Traces match your unique programming

Additional Options: chart illumination, alarm relays, remote control and RS485 Communications

Three-Year Manufacturing Warranty